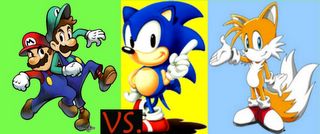 Mario & Luigi vs. Sonic & Tales

Todays fight puts Nintendo against Sega, in a tag-team event. Mario and Luigi, the italian plumber brothers take on Sonic the hedgehog and tales the creepy two tailed fox. Slinus desires all comments!
Desires I say!
Bwah ha ha ha ha!! Who do you think would win?